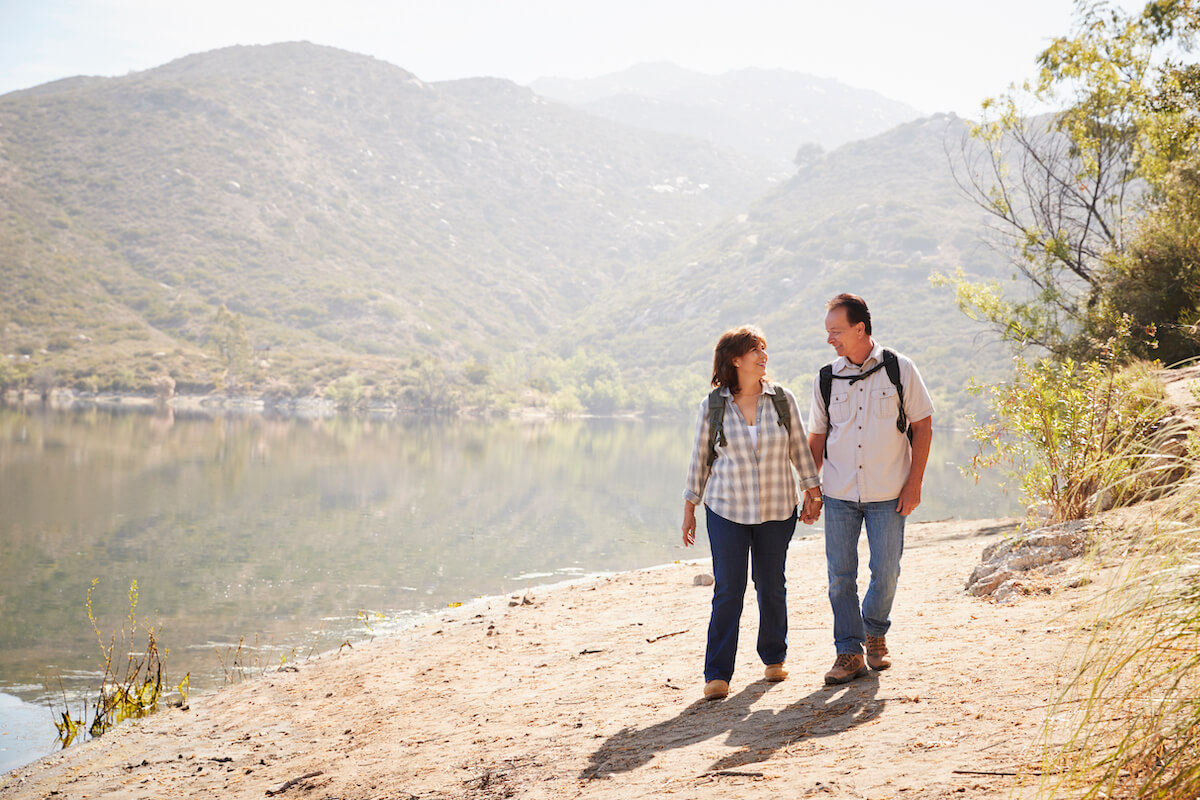 Hiking is an experience like no other. Whether you're climbing a mountain in search of a 360-degree viewpoint, trekking through the woods to find a hidden waterfall, or just strolling through an open field of wildflowers with the sun on your face, going on a hike can instantly brighten your day. Did you know there's more to hiking than being a fun activity, though? Hiking provides countless benefits to your physical, mental, and cognitive health—making it a comprehensive exercise for wellness.
Origin Active Lifestyle Communities proudly offers independent senior living services in Western Canada and encourages a healthy and active lifestyle for all our community members. We are lucky to have communities located near some of the most beautiful parks and trails in Canada, and we encourage our community members to safely get out and get hiking!
We're sharing some of the benefits that hiking can have on your health and well-being.
Physical Benefits
Get Heart Healthy: Hiking, like any aerobic physical exercise, promotes cardiovascular health and can reduce your risk of heart disease, high blood pressures, and stroke.
Strengthen Your Lower Body Muscles: Since most hiking trails, especially in Canada, are not entirely flat and have some incline, they are a great exercise to tone and strengthen your lower body, including your glutes, hamstrings, and quads.
Tone Your Arms: Hiking doesn't just benefit the lower body, though! By adding trekking poles or carrying a backpack during your hike, you can ensure that you work the arms, shoulders, and back, as well.
Improve Bone Density: While hiking is a weight-bearing exercise and can be hard on some people's joints, it can also be a great way to increase bone density and prevent osteoporosis.
Mental Benefits
Reduce Stress: Research shows that spending time outdoors and living an active lifestyle can relieve feelings of stress and improve mood. Since hiking allows you to do both of these things, there's a strong chance that you'll be feeling better the minute you hit the trails!
Boost Creativity: Studies have shown that spending time in nature can enhance creativity, concentration, and focus. When we spend time outdoors, there are more things to see, hear, and experience, stimulating and engaging our minds.
Increase Memory: Living an active lifestyle can promote brain health, increase memory, and reduce the risk of dementia. Research also suggests that spending time outdoors can aid in improving memory and cognitive functioning, as well. With hiking, you get the benefits of both a healthy and active brain!
Increase Socialization: Hiking can be a great way to spend time with family and friends, or even a way to meet new friends! Many local areas will have hiking groups or guided hikes that you can join to spend time on the trails with old and new friends.
Explore New Places: Most hikers love going on new hikes and exploring unfamiliar places. This makes hiking a great way to get out of your comfort zone, go on new adventures, all while feeling accomplished and confident along the way!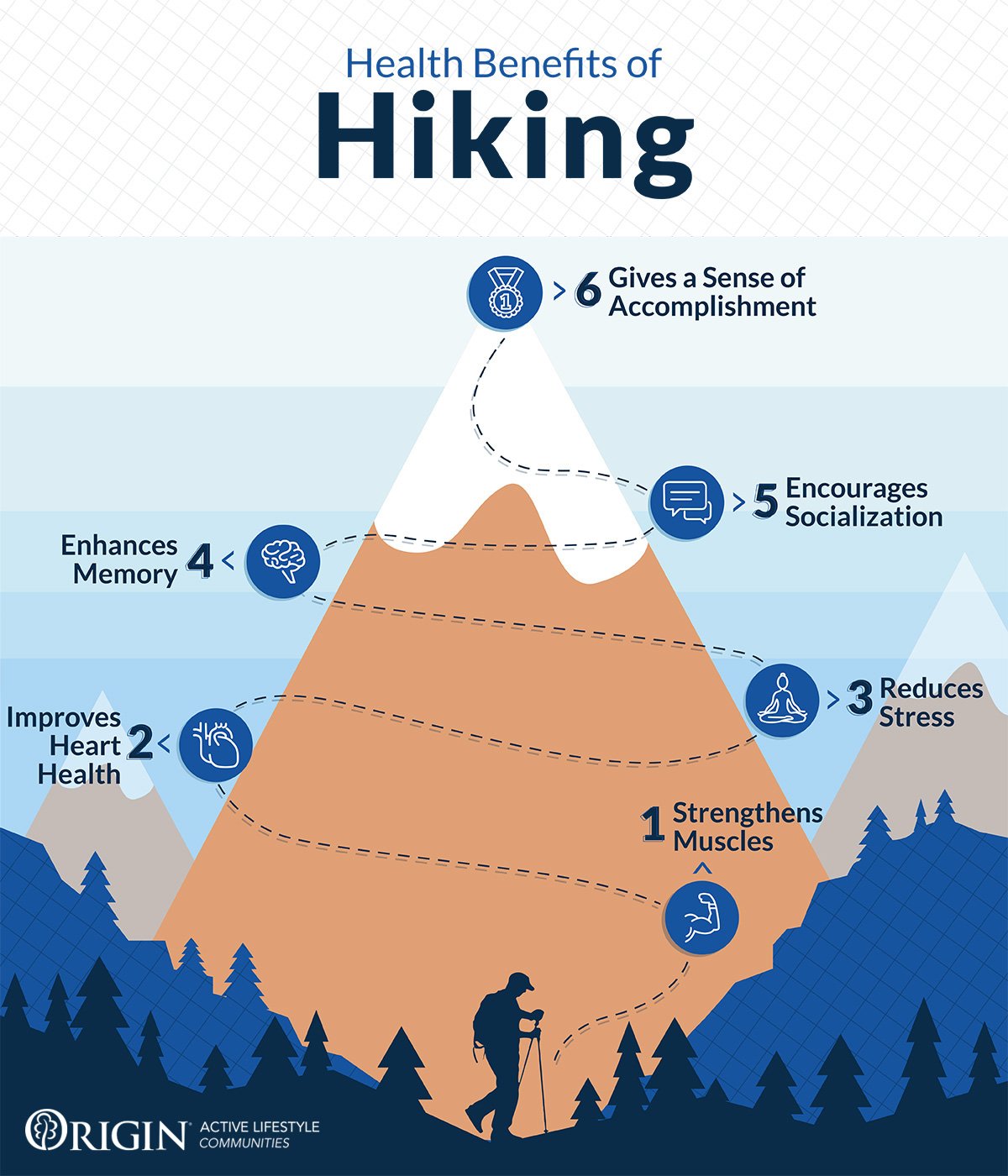 Hiking Safety Tips
For the most part, hiking is a safe and relatively low-risk activity for people of all ages, but even the most experienced hikers can run into unexpected challenges. Here are some tips to consider the next time you hit the trails.
Always Plan. After you've decided what your next hike will be, take some time to research it and make sure it's safe and appropriate for your level of experience and mobility. Apps like AllTrails provide reliable and up-to-date information about the difficulty and conditions of trails.
Dress Appropriately. There's nothing worse than hiking in wet clothes because you didn't know it would rain. Before every hike, check the weather forecast and pack clothes suitable for the weather and the terrain. Dress in layers and wear sturdy, comfortable shoes with proper socks.
Pack Smartly. It's essential to come prepared and bring water, snacks, first aid, and extra clothing, but you also don't want a heavy backpack weighing you down. Try to pack lightweight items that you need and leave anything unnecessary or heavy at home.
The Mountains Are Calling!
Hiking is a fun, rewarding activity—whether it's a short Tuesday morning stroll or an all-day excursion. It poses endless benefits for your mind, body, and soul and connects you with nature like nothing else.
Origin Active Lifestyle Communities has locations nestled near the Canadian Rocky Mountains and some of the most breathtaking scenery in the world. Our communities are founded on encouraging and advocating for an active lifestyle— inside and outside our walls.
For more information on senior health and wellness and our independent senior living communities in Canada, we encourage you to visit our blog!