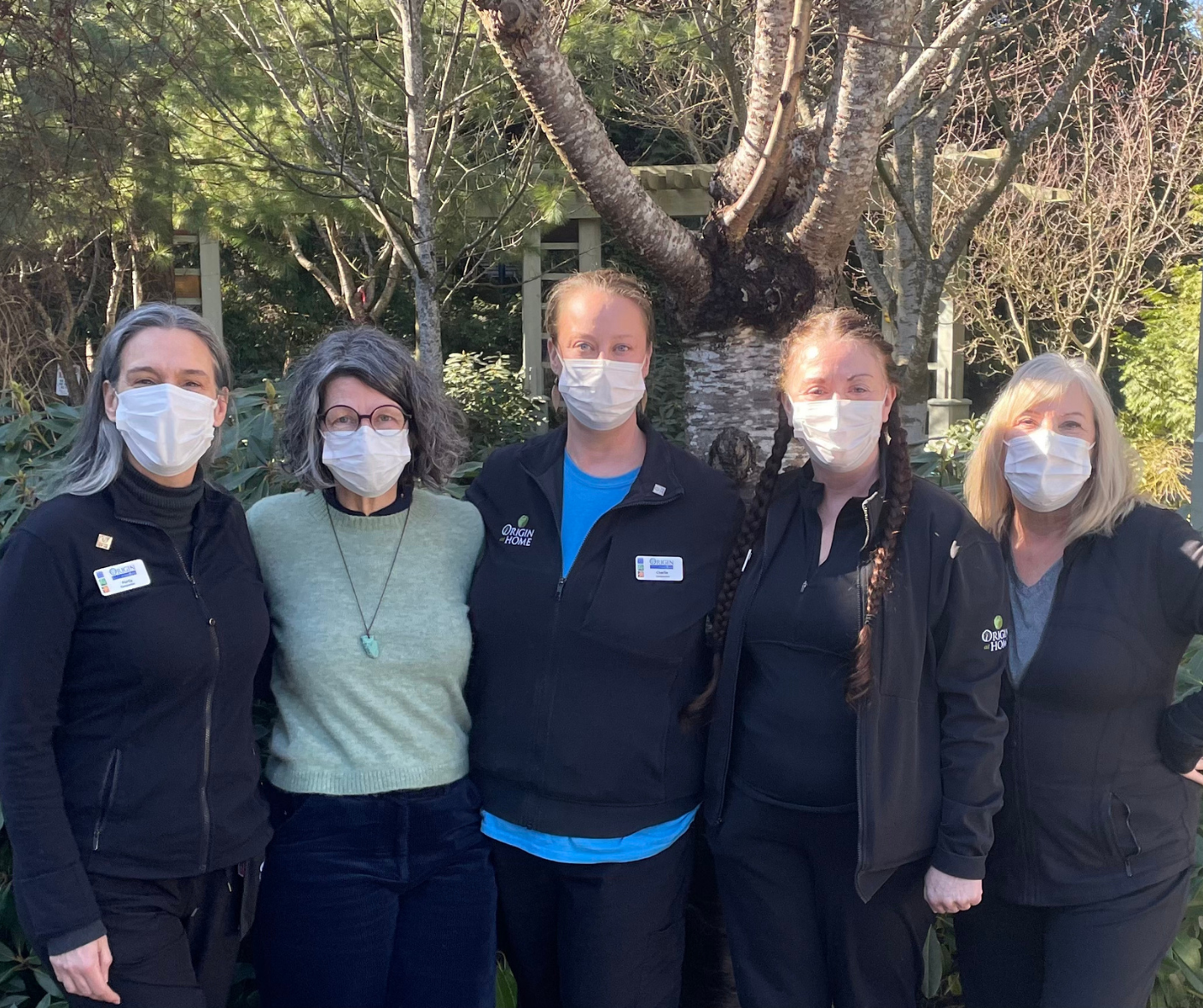 Our later years should be filled with things we enjoy, focusing on health and wellness to maximize our daily experiences. As we age into our later years keeping up with day-to-day tasks, responsibilities, appointments and maintaining a social life can become more difficult to do. A little extra help in these areas can go a long way to improving quality of life. Senior companion services can help give you that extra bit of assistance in the areas you are looking to improve. Whether its enjoying quality time in your own senior community suite, engaging in social activities, exercising regularly, or heading out to run errands.
What is Origin Way™ Companion Services?
Community members, from our Origin Active Living Seniors Communities, having someone there for them to make and enjoy meaningful connections. Origin Way™ Companions create personalized experiences whether it be a stimulating conversation, fitness, organizing your suite, making friends, getting active in the community, or a night out on the town.
Getting to Know Our Companions
Cindy joined Swan Evergreen Village by Origin, one of our Active Living Senior Communities in Calgary Alberta, 5 years ago and has been eagerly developing a team of 6 other companions to bring companion services to its senior community members. Through our 4-week, instructor led course at Origin Academy, they learn what it takes to be an Origin Way™ Companion. From there, they learn the specific needs of each community member in the program and how to support them in a way that suits them best. Every community member is unique in their needs and desires – our companions do their best to create the senior wellness environment in which best maximizes the positivity in that senior's life.
"We launched our program at Swan Evergreen Village by Origin in January of this year. I was very excited to be a part of a program that connected families, community, and companions towards a common goal of engagement, encouragement, and quality time. The best way to describe my thoughts on the Origin Way™ Companion Services is through the rewarding feeling you get creating that special bond with community members and aiding them in creating a fuller, more well-rounded life." – Cindy Moore, Support Service Manager at Swan Evergreen by Origin.
Companion Services
Community Integration
Whether you're beginning your residency or want to try something new in the community we can introduce you to like minded people and be your extra bit of confidence to take on a new experience or try one of our many amenities. Think of us as your own personal encourager!
One-on-One Visits
Need some quality one-on-one time? We can stay in and partake in some of your favourite hobbies, play board games, work on crafts, have meaningful conversations, or enjoy these and numerous other activities out in our community.
In-Suite Upkeep
Assistance around your home whether it's tidying up, decluttering, support with any of your technologies, or many other helpful tasks.
Maintaining a Healthy Lifestyle
Support from your companion to engage in fitness activities that suit your needs and help you become more active, whether it be light walks around the community or partaking in one of our many active lifestyle classes.
Outings
We can be your companion on outings for doctor appointments, running errands, and even fun things like concerts, shows, shopping, and many other exciting events.
And so much more…
Interested In Learning More?
This program is developed around improving the lives of seniors. Currently we provide this service to residents living at one of our Origin communities, but soon we will be moving into the greater communities of Calgary, Alberta and Nanaimo, British Columbia. Sign up for our blog for updates!
If you are interested in signing up for Origin Way™ Companion Services in your community, please select the community below to contact us for more information: