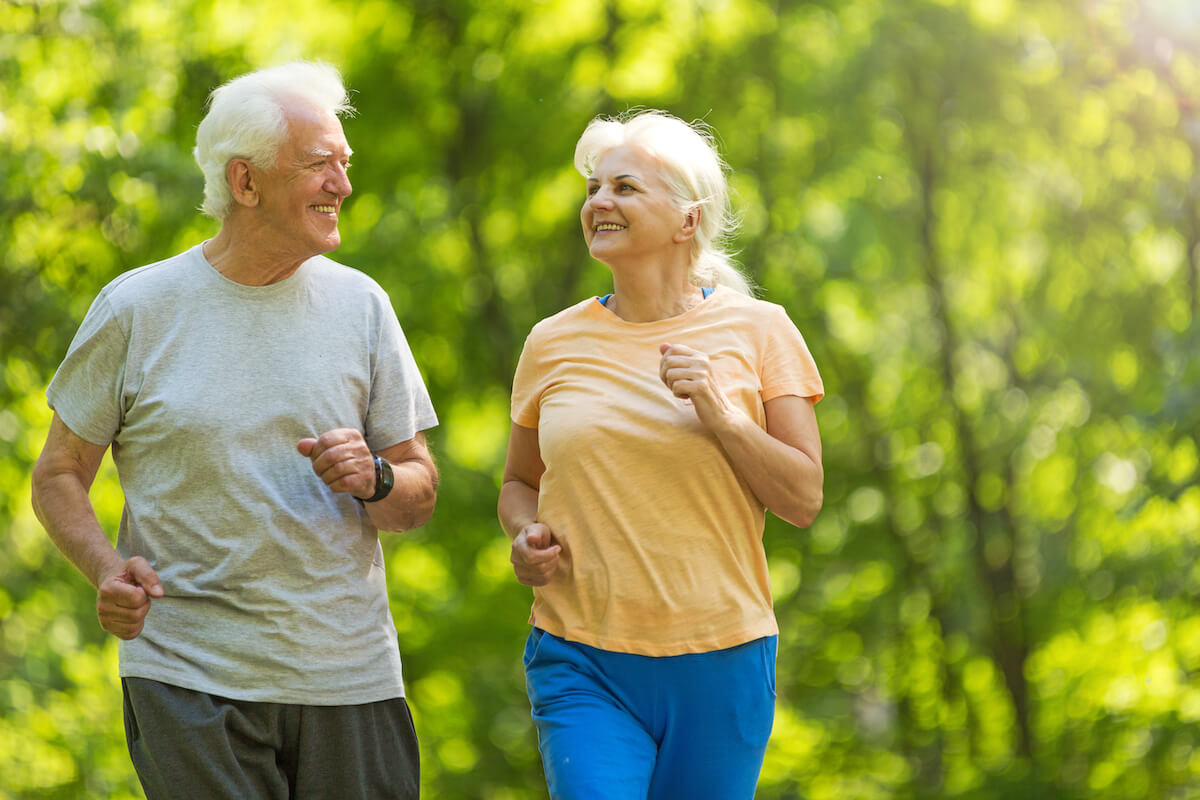 According to the Public Health Agency of Canada (PHAC), in a recent report on healthy aging, Canadians are living longer than previous generations. In fact, the PHAC concludes that "older adults can live longer, healthier lives by staying socially connected, increasing their levels of physical activity, [and] eating in a healthy way."
Origin Active Lifestyles Communities offers many lifestyle and fitness classes that are specially designed to accommodate any level of fitness. So whether you are beginning a new healthy routine or looking to maintain an active lifestyle, we encourage our community members to get moving because it is never too late to get active.
Benefits of Healthy Aging & Active Living
At Origin Active Lifestyles Communities, we understand the importance of physical fitness and the benefits that our community members experience when participating in our exercise programs. Physical fitness can help improve your quality of life, including the following areas:
Increased muscle tone and strength

Improved mood

Reduced stress and anxiety

Improved brain function and cognitive health

Better digestion
Active Aging Canada describes several benefits to heart health, including a lower resting heart rate, lower blood pressure, and an overall improvement to cardiovascular fitness. In addition, researchers have found that older adults who participate in moderate exercise (the equivalent of walking) for 30 minutes a day, five days a week, can dramatically reduce their risk of heart disease.


Healthy Aging

Programs at Origin
We believe in the transformative power of leading an active lifestyle, which is why we offer our community members a variety of exercise programs for a wide range of physical fitness needs. For example, our SWING fitness program caters to different fitness levels so every individual can participate comfortably and safely.
Chair Fitness for Beginners
Our Beginner Chair Fitness class is designed to provide our community members with a total body workout, performing a variety of seated exercises. We target different key areas of the body using restraint bands, dumbbells, and bodyweight exercises.
Running for a total of 30 minutes each session, this program is perfect for community members looking to begin a healthy aging routine – or who are returning to physical fitness and want to build their strength and endurance.
Regular Chair Fitness
Our Regular Chair Fitness class builds on the foundation of our beginner classes, incorporating resistance bands and light weights while also including standing exercises beside and behind the chair. The regular class is 45 minutes and provides a dynamic and energizing routine for our community members.
Balance for Life
Because active adults can have varying levels of abilities and mobility, we have designed programs that meet them where they are in their fitness journey. For intermediate exercise, our Balance for Life program is a robust series that focuses on range of motion exercises, cardio, strength training, and dance.
Our Balance for Life program is available at Origin at Longwood in Nanaimo and Whitehorn Village and Swan Evergreen Village in Calgary. It promotes a balance between the body and mind. By combining balance and strength exercises with pattern recognition and interactive mind games, our team members ensure that every workout is invigorating and fun.


The Results of an Active Lifestyle
At Origin Active Lifestyles Communities, our mission is to redefine healthy aging for our community members. And the best part is – living an active lifestyle generates positive results for the body and the mind.
With active senior living communities serving Nanaimo, Calgary, and the surrounding areas, we are dedicated to improving the lives of older adults, one step at a time. Regardless of your level of fitness, it is never too late to start moving, get active, and commit to living your best, healthiest life.
To learn more about Origin Active Lifestyle Communities' approach to active living and healthy aging, we invite you to visit our website.