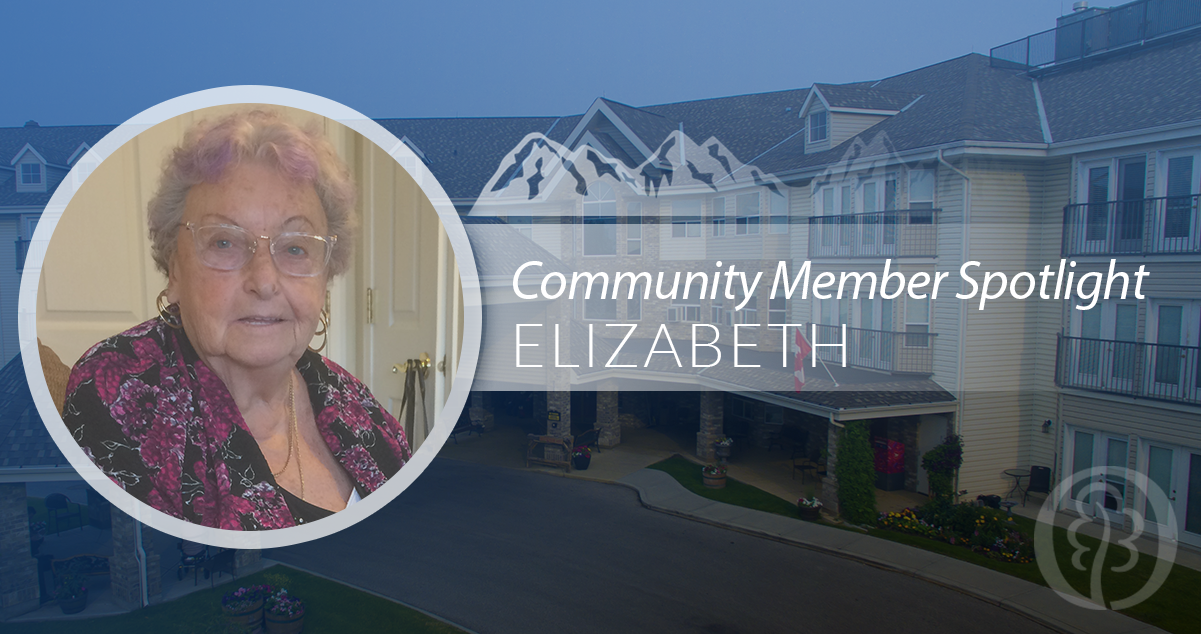 This month, Origin Active Lifestyle Communities is excited to feature our Whitehorn Village community member, Elizabeth, in our Community Member Spotlight!
Elizabeth grew up in Germany and at 5 years old, remembers going through the struggles and hardships of WWII in Berlin. She recalls how difficult it was once the war ended – "everyone was starting from nothing and had access to very little food." Once Americans were allowed to fly food into Germany, Elizabeth says "the food didn't taste good at all; freeze dried eggs and canned corned beef, but it was better than nothing!"
In 1953, Elizabeth decided to move back to Canada where she met her husband, Frank, in Montreal. The two were married for 54 years and, together, had three children. In the late 1970's, Elizabeth and her husband made the move to Calgary where they stayed until after the pair retired.
Throughout those years, Elizabeth worked as a waitress, typist for Metropolitan Life, and as a 'Den Mother' to 20 engineers at Dominion Bridge!
In the early 1990's, Elizabeth and Frank began travelling - Germany, Holland, Switzerland, Austria, and Italy. Unfortunately, due to different circumstances, they never made it to Paris, France.
In 2002, Elizabeth and Frank made the decision to sell their house and buy a condo, so they could continue their travels – this time, Mexico! Mazatlán, Puerto Vallarta, Cancun – Elizabeth remembers all the wonderful friends they made along the way. Elizabeth's favorite part was the swimming pools – "I was suntanned from head to toe just from swimming in the pool." Elizabeth joked that Frank could not float and would just sink, but he taught the kids to dive and swim!
After being involved in an accident, Elizabeth decided to look into moving to an active, senior living community and some neighbors told her and her daughter about Whitehorn Village!
"I like living here [at Whitehorn Village] - we have all these different nationalities and religions, and we are all living here and we all like each other."


When describing herself, Elizabeth notes that she has purple hair and purple nails – "I am old, but I'm young at heart." She considers meeting her husband, Frank, moving to Calgary, and becoming a grandmother as some of the top highlights of her life. Although she used to be very shy, Elizabeth says "now you can't shut me up! I like that better."
We are so fortunate to have wonderful community members like Elizabeth a part of our Origin family. If you are interested in learning more about our active lifestyle communities, visit our website and schedule a visit today!