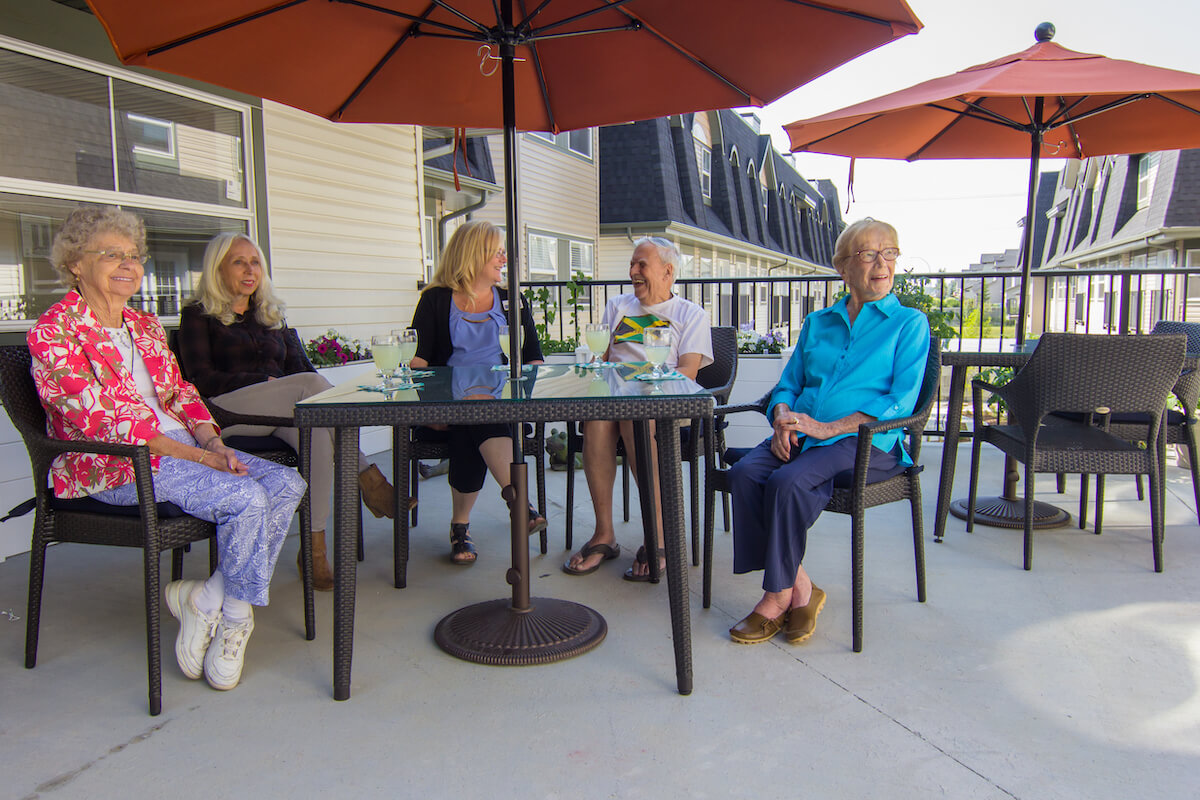 Nearly every (93%) Canadian senior says they want to remain in their homes for as long as possible after retirement. The primary reason for this is to maintain a sense of independence. Still, there are other reasons, including remaining close to family and friends, fostering a sense of belonging, and sentimental attachment to the house.
Sometimes, though, remaining in your house can actually be a barrier to your independence. It can become a financial burden, a source of stress and work, and even a hindrance to activity and socialization—especially during a major health event like COVID-19 when everything was shut down.
With this in mind, it can be beneficial to realize that moving to an independent senior living community can also enhance your independence and offer you more opportunities than you would have at home. Origin Active Lifestyle Communities offers active retirement homes throughout western Canada. We're sharing some activities and amenities that you have access to in our communities you may not have at home!
Relax in the Evergreen Spa and Salon
Sure, you may be able to take a hot bubble bath at home, but do you have access to professional facials, pedicures, therapeutic massages, and hair salon services? At Origin, we offer all these services and more at our Evergreen Spa and Salon, located inside our Origin at Longwood and Origin Spring Creek communities.
One of Origin's founding beliefs is the importance of living an active lifestyle. And we know that setting aside time and intention for activity is just as important as setting aside time and intention for rest and recovery. The Evergreen Salon and Spa offers a chance for our community members to unwind while nourishing their bodies, mind, and spirits.
While many things are still shut down due to coronavirus, the Evergreen Spa and Salon has remained open with thorough and effective safety measures implemented. We want to prioritize health and safety while still offering full services and amenities to our community members.
Enjoy a Chef Prepared Meal
As much as you may enjoy cooking for yourself at home, there's simply nothing like having a delicious, restaurant-style meal served to you each night. We take pride in our dining services, using locally-grown, fresh, organic ingredients in our meals, and partnering with local farmers and professional chefs to curate a rotating menu of options that are not only nutritious but also delicious.
Plan a Full Day with Friends
Over half of the adults interviewed regarding their retirement said they wanted to stay at home to be close to friends and family. However, what happens when those friends move away, you are no longer able to drive, or your local activity centre has closed indefinitely?
At Origin Active Lifestyle Communities, our community members don't have to worry about any of these things. Everything you could want or need is right here in the community—including friends! If you want to attend a fitness class with a neighbour, all you have to do is drop by their apartment and head down to the gym! If you're interested in checking out the evening's wine tasting, simply walk down to the bar without worrying about transportation or busy crowds. Here, our community members receive the comprehensive benefits of socialization, activity, and entertainment, all without even leaving the community.
Live Worry and Maintenance Free
Staying in your long-time home after retirement may seem ideal, but what happens when the oven breaks for the third time, or the steps keep getting piled with snow and you don't have the energy to shovel? Maintaining a home as we get older can become a burden, often turning into more work than it's worth. At Origin, our community members live a carefree lifestyle of no maintenance, no chores, and no shovelling.
You won't realize how much time and energy you spent maintaining a home until you don't have to do it anymore! Here, you can have an active lifestyle and fill your days how you choose while all the chores, maintenance, repairs, and landscaping are done for you.
Enjoy a Life That's Exclusively Origin
It can feel safe and comfortable to remain in your home after retirement, but after a while, you may realize that it isn't the carefree, independent lifestyle you were hoping for. Living in a senior independent living community can open doors and offer opportunities you can't find anywhere else; you just have to step out of your comfort zone and see for yourself.
Origin Active Lifestyle Communities offers independent living, assisted living, memory care, and respite care services at beautiful retirement homes in western Canada. We invite you to come and explore all that we have to offer and see if this lifestyle could be right for you!