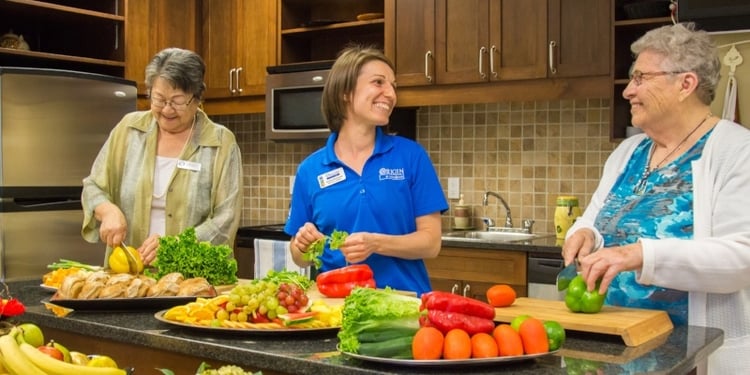 As the Baby Boomer population ages, more and more people are being diagnosed with Alzheimer's, a form of dementia, or other memory related diseases. In fact, according to the Alzheimer's association, someone develops the disease every 66 seconds. As your loved one starts requiring and needing more care, you may find yourself researching memory care options near where you live. As you begin visiting these communities, it is important to know what questions to ask and what makes a memory care community stand out from the rest.
Here are some questions to consider while on your tour of a community:
Pricing
Are the prices for the community all-inclusive?
What services are not included in the monthly rent?
How often do their rates increase?
Staffing
On your tour are you warmly greeted?
Is the staff friendly to you and your family members?
Are the staff members listening to your needs and concerns?
How is the staff interacting with current residents?
Do they exceed set standards for staff to resident ratio?
Are the residents' needs being met?
Do they have any specialized memory care training?
Programming and Activities
Do the activities seem stimulating, rewarding, and engaging?
How do they incorporate residents' preferences?
Do they schedule excursions? If so, how is transportation handled?
If a resident does not want to participate, how are their social needs being met?
Nutrition and Dining
Are meals cooked at the community?
Does each resident have a nutrition plan?
Are the residents eating the food?
Does the food look and smell appealing?
Are family and friends invited to join their loved one for a meal?
Community Atmosphere
How does the community feel when you are touring?
Is the environment inviting?
Does the community look well taken care of inside? Outside?
Is there a secure outdoor space for residents to enjoy the outside?
Is the community free of odors?
Safety
Are all of the windows secured? Doors?
Are the in-suite showers handicap accessible?
Are floors and hallways wide and clutter free?
Does the community impose visitor restrictions?
Do they offer personal emergency response devices?
What emergency technology is in place for caregivers and residents?
Asking these questions during a tour of a prospective memory care community will help you determine if the community is the right fit for your loved one. If you would like more information on Origin Active Living Communities' memory care services, please contact a memory care expert, today.