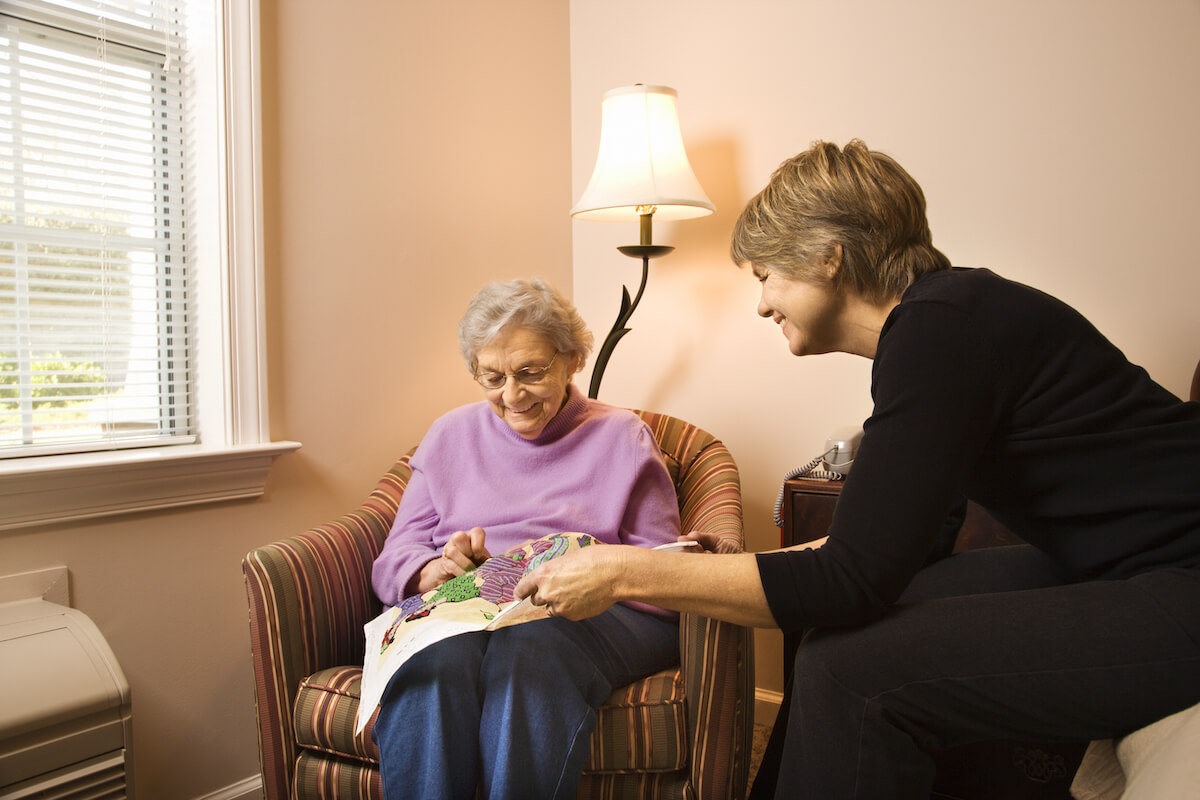 Approximately 750,000 Canadians are living with Alzheimer's disease or another form of dementia. And it doesn't just impact them; it impacts family, friends, coworkers, neighbours, and others. In response to how widespread dementia is—combined with the growing aging population—Canada has even designed a national dementia strategy to increase awareness and funding for research for treatments and cures.
One of the objectives of this strategy is to improve the quality of life of those diagnosed with dementia. Experts have concluded that with a holistic approach to dementia care, individuals can lead fulfilling lives and remain valuable members of their communities for longer.
Recognizing that those with dementia are people with unique backgrounds, values, experiences, and personalities, a holistic approach to dementia care promotes care that treats family members and loved ones with dignity and respect while giving them the quality of life they deserve.
Origin proudly offers dementia care at residential communities in Calgary and Nanaimo. At Origin Active Lifestyle Communities, we utilize this holistic approach to ensure that every community member is treated as a whole person.
Below, we're taking a look at how our communities provide comprehensive dementia care to our members to ensure successful days and meaningful moments.
What is Holistic Dementia Care?
Many approaches to dementia care focus on the disease itself—on the underlying causes and the related symptoms. While this is undoubtedly important, this approach ignores the rest of the person, their passions, interests, backgrounds, strengths, and abilities. In addition, this method of care can lead to isolation, loneliness, and depression, which can worsen the overall symptoms of dementia.
Holistic dementia care, on the other hand, focuses on the whole person. It combines the needed medical and personal care with other methods that encourage emotional support and ways to rediscover their identity. Simply put, holistic dementia care offers support in every dimension of wellness, including physical, social, spiritual, and more.
Fulfilling each of these dimensions of wellness is not only valuable in helping those with dementia live the fullest version of themselves, but it can also help in preventing other diseases and supporting overall health and longevity.
Holistic Dementia Care at Origin
Physical Wellness
Origin's dementia care is dedicated to thoroughly enriching the lives of our community members with dementia in Calgary and Nanaimo. We know that physical activity and wellness are vital for every adult, and especially those with dementia.
Each of our communities offers engaging exercise programs designed to be accessible and enjoyable for those with dementia. We also provide nourishing, hand-crafted meals that support physical wellness and brain health.
Mental Wellness
We also employ activities and programs that promote mental wellness and encourage cognitive functioning. Each community hosts various games and activities designed to stimulate and excite.
At Origin's Whitehorn Village, we utilize an innovative approach to ensure community members are engaged and entertained. Obie, an interactive gaming console, can be projected on any surface and turn it into a full, interactive area. Games are made to strengthen motor skills, encourage social interaction, and foster cognitive growth. We are proud to employ such a great tool to support community members holistically.
Social and Emotional Wellness
We know that those with dementia can enjoy hobbies, social events, travelling, and learn new skills. At Origin, our holistic approach ensures that individuals don't lose their identity after being diagnosed. We host daily activities and programs that allow community members to safely and actively participate in the things they love, such as gardening, painting, cooking, music, and more.
Origin at Home™
Our unique in-home wellness approach, Origin at Home™, is designed to celebrate and enhance an individual's quality of life. Our compassionate Wellness Companions offer dedicated dementia care focused on your loved one's whole self. We do this through stimulating companionship, mindfulness practices, fitness plans, customized meal planning, creative and intellectual hobbies, and home maintenance.
Origin at Home™ is currently offered throughout our Origin at Longwood community. We are planning to launch the program at Swan Evergreen Village in Calgary soon!
Living Well with Dementia
If you have a family member that needs more direct and comprehensive dementia care, our communities in Calgary and Nanaimo offer a supportive environment that focuses on the whole self. Our 'wholistic' approach to dementia care mirrors the country's national strategy by providing comprehensive care and focusing on all the dimensions of wellness. In our communities, every day focuses on growth, wellness, activity, and happiness.
Dementia is a disease that can overwhelmingly impact many lives. Our residential care communities offer enhanced safety and security to ensure that community members are safe and thriving in an environment designed to support and stimulate.
Trained in every dimension of wellness, our holistic approach to dementia care brings the quality of life your loved one deserves. We invite you to contact us today to learn more about our communities and comprehensive dementia care in Calgary and Nanaimo.