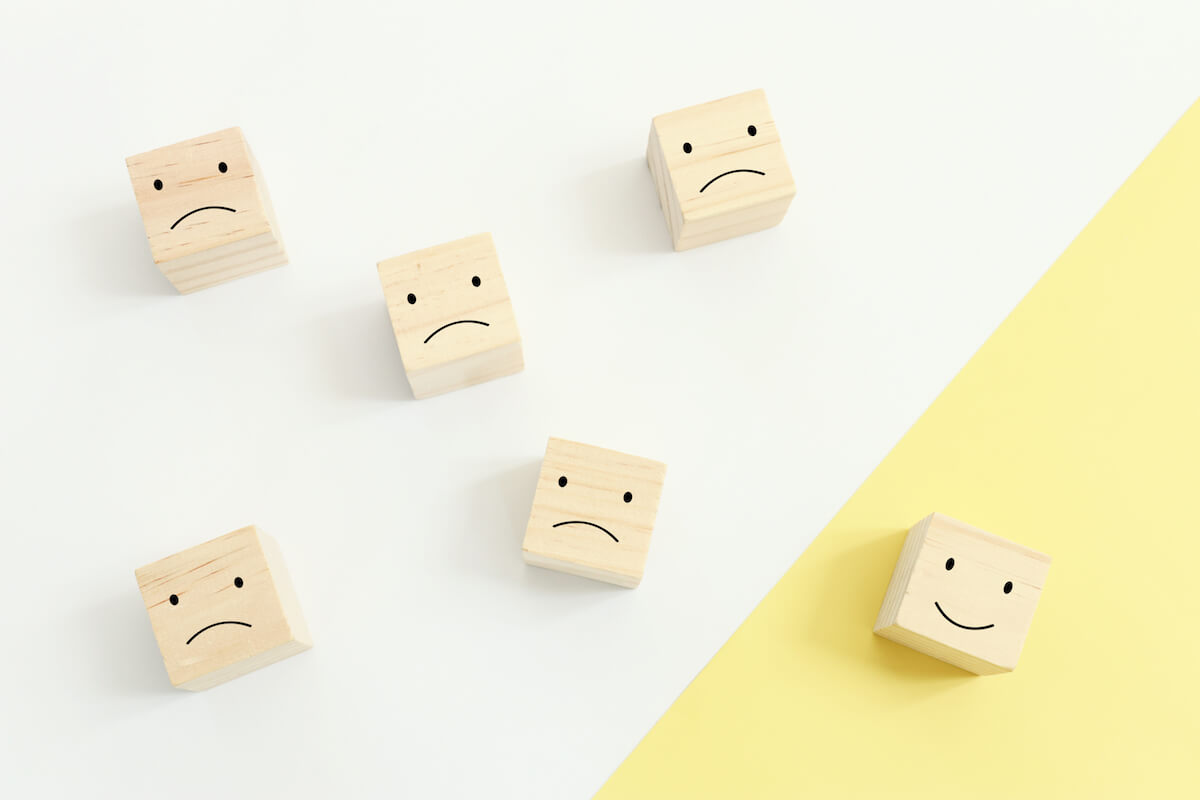 You may have heard people tell you "to look on the bright side" or "when life gives you lemons, make lemonade!" These small phrases can bring you comfort at the moment, but they can also be good lessons on how to live your life.
How we think plays a significant role in how we feel. However, having a positive mindset can influence more than just your thoughts; it can also enhance your physical and mental wellness and ultimately transform your life.
At Origin Active Lifestyle Communities, we focus on ensuring an active lifestyle for our members, but we also host activities and programs designed to promote positivity, connection, and mental wellness. Our independent living, assisted living, and memory care throughout our Origin Communities use a holistic approach to ensure our members have everything they need for a positive and fulfilling life.


The Importance of Mental Health
Mental health is such an important issue because not only does it impact mental wellness, but our mental health can also manifest physically. Mental health concerns such as feelings of stress or anxiety can lead to lower immunity, fatigue, and a heightened risk for chronic disease. According to the Canadian Institute for Health Information, those with reported feelings of depression are three times more likely to experience a chronic physical condition.
If you or someone you know is experiencing a mental health crisis, please contact the Alberta Health Services' Mental Health Helpline at 1-877-303-2642 or the BC Mental Health Support Hotline at 310-6789 (no area code).


How Does a Positive Mindset Lead to Better Health?
Even though a positive outlook might seem abstract, it can have a real, tangible impact on your life. A 2019 review of 15 studies with over 200,000 participants concluded that optimists had a 35% lower chance of getting heart disease. There is also evidence that those with a brighter outlook had lower blood pressure, lower risk of illness and cancer, and recovered from surgeries faster.
While the reasons for these connections are not fully known, a lot comes down to the fact that those who are optimistic are more likely to engage in healthy behaviours, like exercising, eating well, and socializing with others.


Practicing Positivity
Living with positivity doesn't mean ignoring all of life's problems either; it means finding a healthy balance that allows you to recognize problems and also focus on what you can change and how you can react.
Adopting a positive mindset may seem intimidating, but it's not as complicated as you might think—sometimes, all it takes is a few habit changes! Here are some realistic ways you can practice positivity in your everyday life:


Start a Gratitude Journal
Having a gratitude journal is a great way to visually see the things in your life that bring you joy. It doesn't need to be formal, just simply taking a few moments at the end of each day to list a few things you are grateful for. Not only can it help you find the good in each day, but it can also remind you of the good things in your life on days that feel overwhelming.


Practice Mindfulness or Meditation
Mindfulness is a practice that helps you live in the present moment, feelings and experiencing each thought and emotion as it comes. Mindfulness can be invaluable in managing stress and allowing you to appreciate what is truly important to you.


Focus on Wellness, Positivity Will Come
It can feel intimidating to pressure yourself to have a positive mindset all the time, but there are other ways to look at it that may not seem as difficult. Imagine happiness, wellness, and positivity as a byproduct of a well-lived and fulfilling life. By doing things you love with people you love, you will naturally live with positivity.


How Origin Promotes Positivity
At Origin Active Lifestyle Communities, we understand the importance of health and positivity in promoting overall wellness. We are dedicated to promoting comprehensive support for all our community members, engaging them in an active lifestyle paired with nourishing meals and engaging activities.



Our programs are intentionally focused on creating positive moments, and our communities offer everything from group games and sports to yoga, Tai Chi, and spiritual services. At Whitehorn Village, community members can gather for our Java Group Therapy program, which addresses issues facing seniors and how to manage feelings of stress.
The power of positivity is a gratifying way to live your life; it can have real effects on your physical health, mental health, and relationships. We have more control over our lives than we think, and reacting to situations with a positive mindset can become invaluable. At Origin, we promote positivity daily and ensure each of our members is living a fulfilled and positive life!
To discover more about our active senior living communities in Calgary and Nanaimo, visit our website!