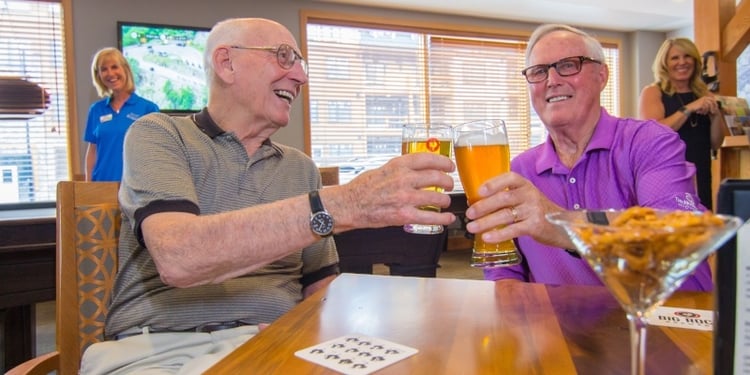 The prospect of moving out of your home and into an apartment can bring on a broad range of emotions – and without a clear understanding of your options, it can be downright agonizing. There are lots of misconceptions around retirement communities and independent living – what it is and what it is not. Here are four things about independent living you may not know and that will help you better understand this type of senior living.
It is Active – It is not uncommon for people to confuse senior living communities with nursing homes, but they are different care options. While people use nursing homes as an umbrella term – senior living options like assisted living and primarily independent living are lower acuity and much more active lifestyles. Life in an independent living community is full of opportunities to spend the day exactly how you want it, whether that is traveling, learning something new, or exploring new places.
There is Help When You Need It – There's security knowing that in the event of an emergency, someone is right down the hall and willing to help. As we age, living on our own can cause us to feel insecure. While you may not need help while residing in a community, it is there if and when you need it. This is especially reassuring for people who have lived alone, away from friends and family.
New Friendship Opportunities – Independent living provides more opportunities to make new friends. You will find in independent living that most people are of similar age, health, and background and may find yourself having similar interests once you've gotten to know them better. Independent living communities offer lots of events which are the perfect times to mix, mingle, and introduce yourself to other people also living in the community.
Communal Living is Healthier – Studies show that moving into an independent living community is healthier than living alone for many older adults. Isolation is a grave concern for people as they age and increases the risk of a variety of health problems. Communal living provides a way for you to stay mentally, emotionally, and physically more connected than you would be living on your own. In addition to active living, it also provides proper nutrition, companionship, wellness opportunities, lower levels of stress, and safety.
Have more questions about whether independent living is the right option for you? Speak with our independent living experts today and find out how Origin Active Lifestyle Communities can help you.