We are delighted to announce that Origin has achieved accreditation from the prestigious Accreditation Canada! This remarkable achievement holds tremendous significance for senior communities, and we couldn't be prouder to be a part of this esteemed organization.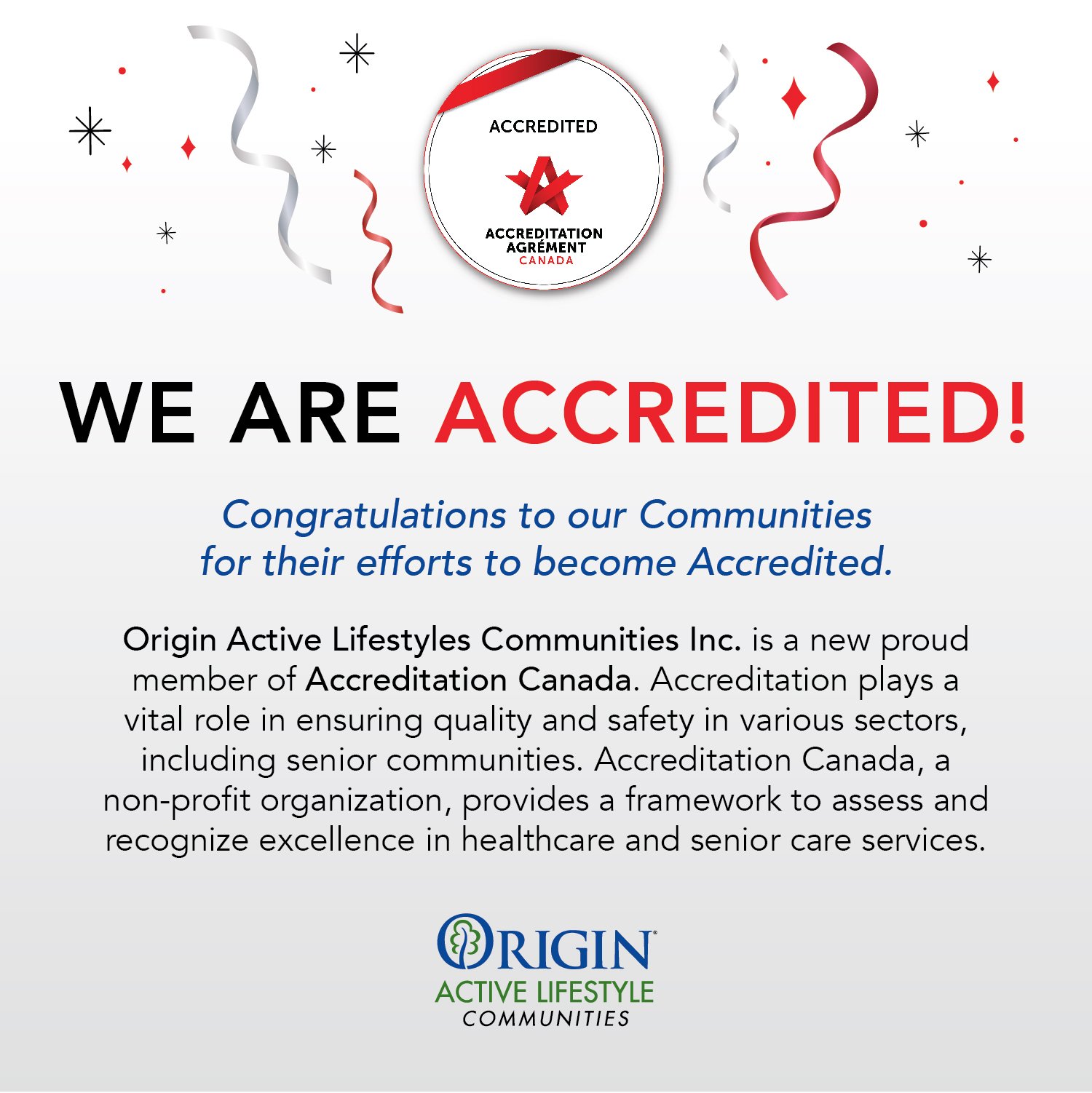 Accreditation Canada, a non-profit organization, is at the forefront of promoting quality and safety across various sectors, particularly in healthcare and senior care services. Their comprehensive framework assesses and recognizes excellence, setting rigorous standards that organizations must meet to earn accreditation. By achieving this recognition, Origin demonstrates our commitment to providing the highest level of care and services to our community members.
Origin's journey towards accreditation has been driven by a relentless pursuit of excellence in every aspect of our senior living communities. The stringent criteria set by Accreditation Canada have become our guiding principles in maintaining safety, adhering to the highest quality standards, and safeguarding the rights and well-being of community members.
Moreover, accreditation emphasizes continuous improvement, aligning perfectly with Origin's core values. Our dedication to learning and development has been further strengthened through regular evaluations, allowing us to identify areas for enhancement and implement necessary changes. This culture of continuous improvement ensures that our community members receive unparalleled care and services throughout their lives with us.
Safety and risk management have always been paramount in our communities, and with Accreditation Canada's emphasis on community member safety, we have been able to enhance our protocols even further. By identifying potential safety gaps and proactively implementing effective risk management strategies, particularly for those with complex healthcare needs.
Accreditation Canada also serves as a symbol of trust and transparency in senior care. It provides invaluable information to families and individuals seeking senior living options, allowing them to make informed decisions with confidence. The public availability of assessment results and performance indicators fosters accountability and promotes continuous improvement across the sector. At Origin, we have always upheld the values of trust and transparency, and achieving accreditation reinforces our commitment to these principles at all Origin communities.
Accreditation Canada plays a pivotal role in ensuring the highest standards of quality, safety, and continuous improvement in senior communities. Origin's accreditation signifies our dedication to exceptional care and service, and we look forward to continuing our mission of providing outstanding living experiences.