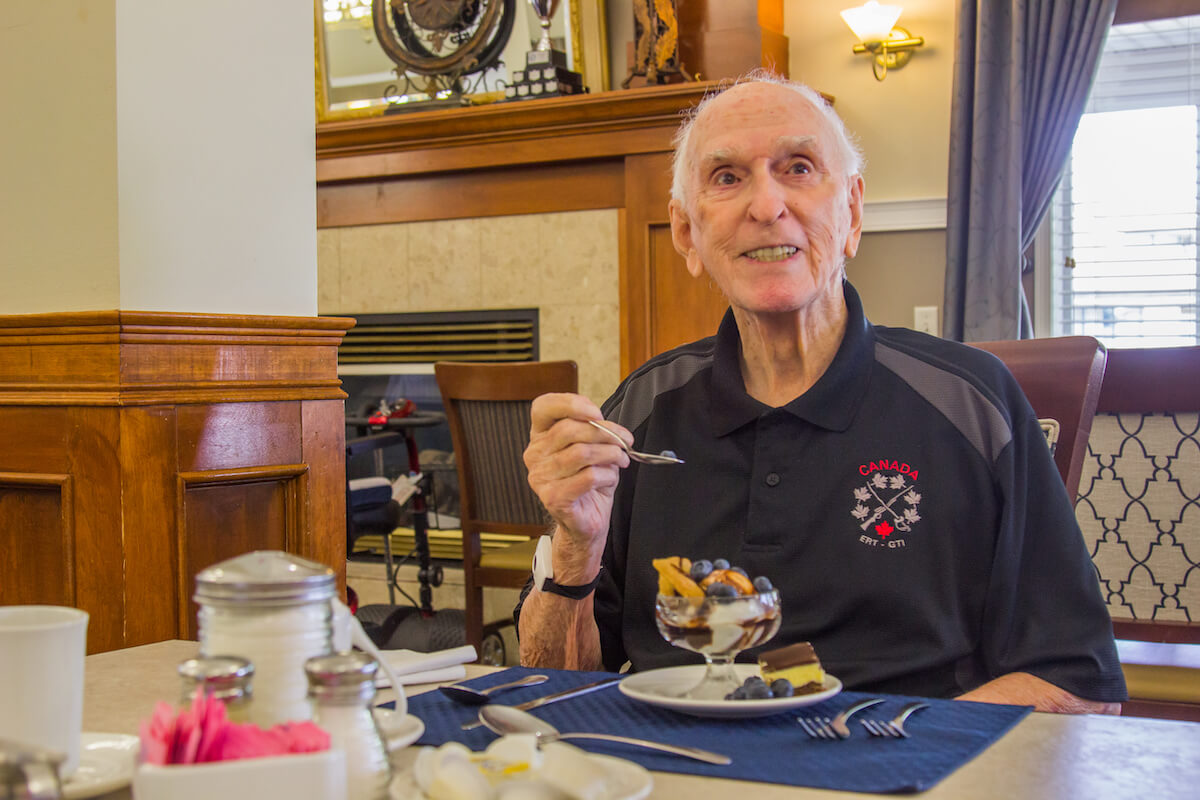 Caring for an aging loved one can be taxing, especially if they have a chronic illness or a memory impairment. While caregiving can be rewarding, it can also be demanding and stressful at times—leaving caregivers with little time to focus on their own health and wellness. With over 8 million Canadians providing care to an older family member, it's essential to realize that, like the adults they care for, caregivers also need support and attention to remain healthy and refreshed. Origin Active Lifestyle Communities offers respite care services at our active senior living communities throughout Alberta and British Columbia, Canada. Discover how these services can benefit older adults and their caregivers!
What is Respite Care?
Respite care is a short-term senior care option when family members or other caregivers are unable to perform their caregiving duties. Respite care can be utilized for as brief as a few hours or as long as a few weeks and gives caregivers an opportunity to run errands, attend appointments, go on vacation, or simply take a break.
At Origin communities, respite care services provide guests with the same level of care and attention that all permanent community members receive. Guests who utilize our respite program will receive:
Personalized Care and Assistance With Daily Routines
Full Access to Community Amenities, Activities, and Events
Three Chef-Prepared Meals Plus Snacks Daily (Depending on Length of Stay)
Stay in Studio Suite For Duration of Stay
Benefits of Respite Care for Families
Utilizing respite care services can be a great solution when family caregivers have a doctor's appointment, work meeting, or a planned vacation. They can handle these events and feel confident that their loved one is safe and cared for by trained professionals.
The benefits of respite care go beyond appointments and meetings, though. With full-time caregiving on the rise, more and more Canadians are experiencing a phenomenon called caregiver burnout. Caregiver burnout occurs when the stresses of caregiving affect overall health and wellness, and ultimately, the ability to provide care.

When caring for an older family member, it's common for caregivers to put their loved one first while neglecting their own needs. Doing this can result in:
Anxiety
Depression
Lack of sleep
Reduced immunity
Feelings of indifference
If a caregiver cannot take a break, these feelings can become all-consuming and ultimately affect their ability to provide effective care.
Situations like this are where respite care can significantly help. For caregivers who are experiencing symptoms of caregiver burnout, respite care can offer a much-needed break from the responsibilities of caregiving - an opportunity to recharge, refresh, and return as a stronger caregiver.
Benefits of Respite Care for Older Adults
In addition to providing relief for caregivers, respite services also offer benefits to the guests who utilize them. Social isolation is a prevalent problem for many adults in Canada. Connecting and being around people can significantly reduce the risk of depression and other health concerns. Plus, activities hosted in respite care programs include stimulating fitness and mental exercises to provide adults with comprehensive mental, social, and physical wellness.
Beyond social interaction and physical engagement, respite care provides an excellent opportunity for older adults to see what life is like at a senior living community. Many adults are unfamiliar with senior living or have misconceptions about what it might be like to live at one. By taking advantage of a respite care program, individuals will experience first-hand what life is like—including care, dining, activities, amenities, and apartments. They can meet the team and other community members and become familiar with the environment. That way, when the time does come for them to transition into senior living, they can do so with excitement and comfort rather than fear.
Respite Care at Origin Active Lifestyle Communities
Origin Active Lifestyles Communities are dedicated to providing a lifestyle of engagement, nutrition, and support for full-time community members and temporary respite guests. We are committed to providing caregivers comfort and peace of mind through our respite program while providing guests with professional care and attention.
If you are a family caregiver and are interested in learning more about care at Origin Active Lifestyle Communities, we invite you to contact us today!