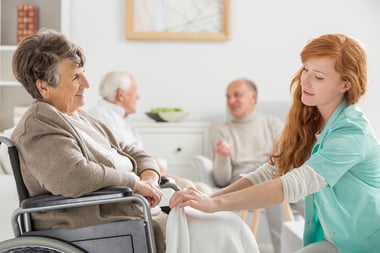 With an estimated 8 million Canadians providing informal care to a family member or friend, understanding healthy habits is extremely important. While being a caregiver can be a positive and rewarding experience, it can also take its toll, both physically and mentally.
Without finding a healthy balance between caring for someone else and managing your own physical and mental health, you're increasing your risk of developing what is best described as caregiver burnout.
Caregiver burnout not only derives from the day-to-day handling of an illness, but the financial burdens it may involve, how your mood is affecting other family members and the general interruption of the caregiver's life. The combination of these pressures would negatively impact anyone's ability to provide quality care.
Far too often, caregivers may find themselves accepting the everyday stress and worry that accompanies providing care to an aging or disabled adult, and as a result, may not acknowledge warning signs and symptoms of caregiver burnout.
Symptoms of caregiver burnout include depression and irritability, lack of energy or an overall fatigue, mood swings, changes in eating habits (weight gain or loss), losing interest in activities you once enjoyed, among others. It's important to not only know the warning signs but also make an effort to manage and reduce your stress levels to protect yourself. Here are three tips from Origin Active Lifestyle to help you both understand and combat caregiver burnout:
Ask for Help
Do not try to do it all alone. If you start to feel overwhelmed, hopeless or anxious about the situation, reach out to a friend or family member for assistance. It may be as informal as having someone check-in with you regularly (daily, weekly or however you see fit) to make sure you are rested, healthy and feel at ease with your caregiver tasks.
Do not be afraid to accept help! Even if you are confident in your caregiving tasks, say "yes" if someone offers assistance. That little break of having someone else pick up the groceries or drive to an appointment may be just what you need.
Take Care of Yourself
Being a caregiver may be your main priority at times, but don't forget the importance of maintaining your health. First and foremost, stay on top of your check-ups and medical appointments. You need to stay healthy in order to take care of someone else.
It is also important to nourish your body and eat well. Foods like fish, nuts, and fresh fruits and vegetables provide steady energy – as opposed to sugar and caffeine that work as a quick pick-me-up and end in an energy crash. Exercise is also known to be a powerful stress reliever, mood enhancer and is found to boost energy levels.
Join a Support Group
For some caregivers, relieving stress could be as simple as meeting with a support group and sharing your feelings with people who are going through similar experiences. In most support groups, you can talk about your own problems and worries, and listen to others talk about theirs. The goal is to realize you are not alone.
At Origin Active Lifestyles, we focus on our community members, as well as those that care for them. We created our
Soul Café
as a way for Origin team members to focus on their wellness and come away feeling revitalized and refreshed. If you are a caregiver, make sure to notice the warnings signs of caregiver burnout and take the time to focus on your own physical and mental health.